An overview of the visual elements of brand identity and how they can help your business
The most successful, memorable brands are those that build on layered relationships and experiences that resonate deeply with us. They connect with our values, tug on our heartstrings, and inspire emotion.
Seth Godin offers this definition of a brand:
…the set of expectations, memories, stories and relationships that, taken together, account for a consumer's decision to choose one product or service over another.
What is visual branding?
Your brand is a complex idea that lives in our minds and across various media. It's what we think of when we think about your business. That includes imagery, colours, people and emotions.
Generally, we tend to associate brands with their logos. Logos and typographic brand marks are visually what we most clearly remember about brands.
To maximize visual brand impact, we tie in typography, colour, etc. to cohesively convey who we are and connect with our audience on a more emotional level.
Think of one of the most enduring brands that resonates emotionally: Coca-Cola. That arresting shade of red. Their bottle design(s). The sometimes funny, always heartwarming commercials. I particularly remember the Coke ads I watched as a child growing up in Malaysia that celebrated our culture.
I don't even drink coke but I have very warm, positive feelings about this brand.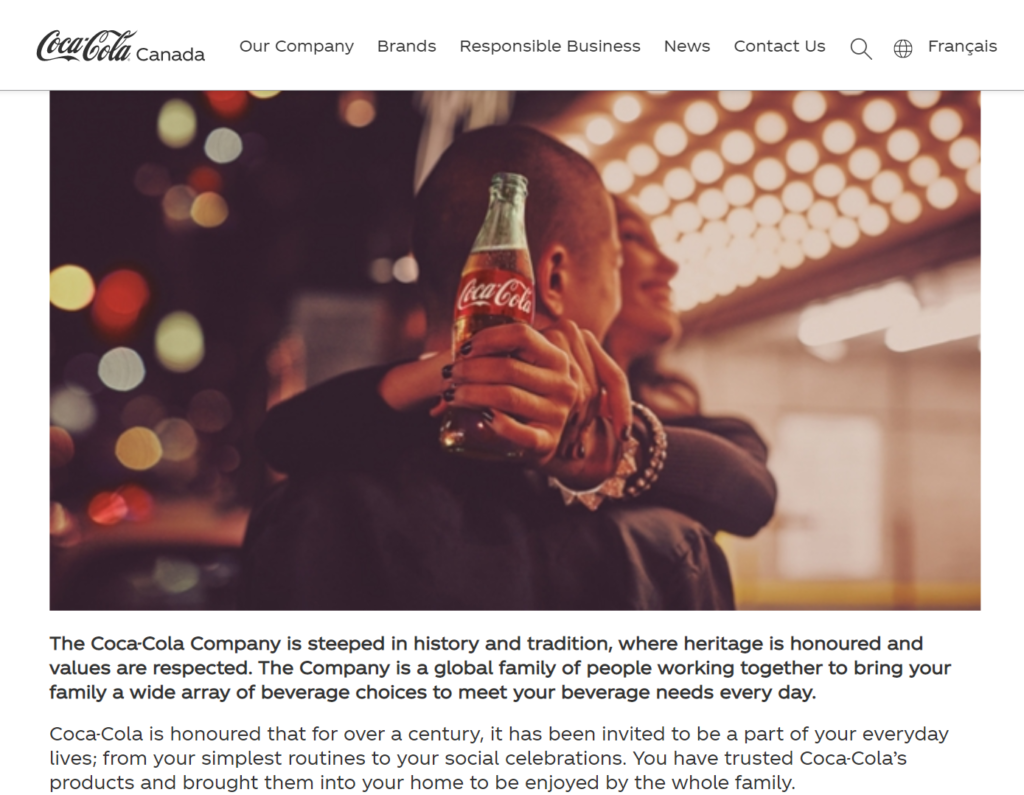 You know a brand is successful when their Share a Coke campaign swaps out their iconic logo for other names – one of which might be yours. You can glance at the bottle and recognize that it's a coke even though it reads "Maddy" or "Dillon".
This is the result of incredible branding over time, of course, but the company has optimized their use of visual elements to ensure that anyone can recognize a coke bottle without even needing to read the label, and solidified a personal connection with their customers.
Elements of visual branding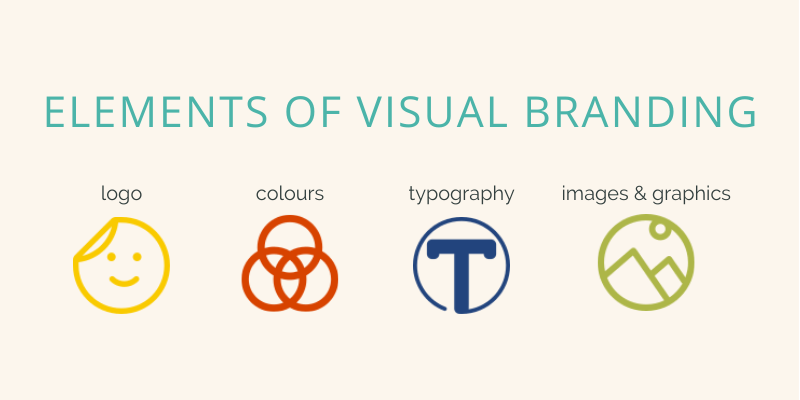 Logo or brand mark
Your logo is your brand distilled down to its simplest form. This could be a wordmark, a lettermark (or monogram logo), or a symbol (graphic logo).
Here are a few of the most globally recognizable logos.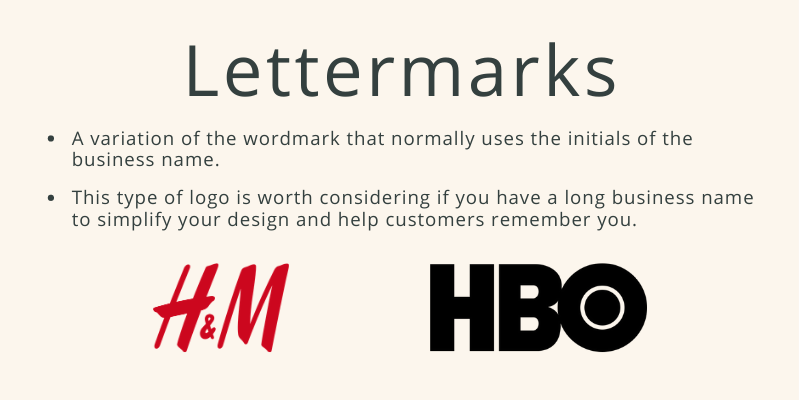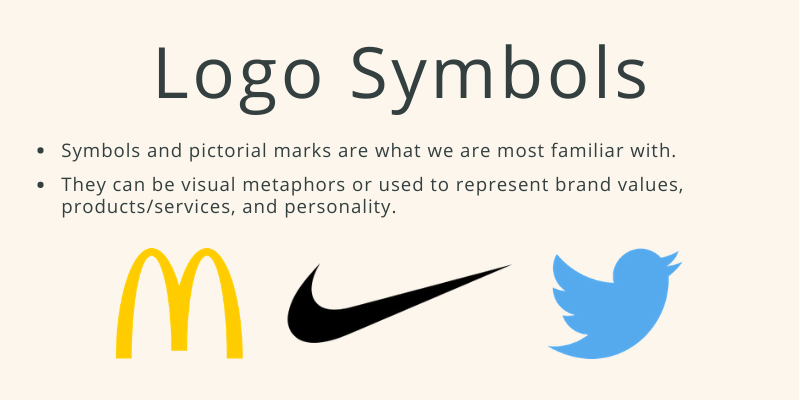 An effective logo should be memorable, distinguishable from your competitors, and convey your brand identity in a simple way. If you are a newer business, then a wordmark or lettermark can be a good option to build brand awareness.
Colour
This can be a very powerful element in conveying your brand story by portraying your brand identity and appealing emotionally to your target audience. Colour not only carries meaning and can evoke different emotions, but it can provide a strong connection between you and your audience.
Some familiar colour associations include blue as calming and associated with trustworthiness, while red is associated with energy and danger.
Choosing your brand colours isn't necessarily that straightforward though. Context, culture, and personal experience can impact the meaning that colours carry. Think carefully about the emotions and values you want associated with your brand. Most importantly, do your research on your target audience!
When I develop a colour story, I want to pick out a combination that looks good aesthetically but also allows my clients to use it to effectively convey their brand personality and complement their brand messaging.
Typography
Typography can support your brand's personality through font styling and a combination of fonts that convey your brand's emotional qualities. You could potentially use any combination of fonts (or stick to just one).
Again, do your research and pick what's right for your business. Notice how each of the font combinations below tells a different story and conveys a different feel.
With typography, you want to choose fonts that are consistent with your brand personality, but make sure your text can be easily read!
Images & Graphic Elements
I'm covering this section broadly, but be aware that imagery can include photography, video content, and iconography among other graphical elements.
We tend to have more positive associations with faces. You knew that already – your most popular Instagram posts probably tend to focus on faces, especially when they are photos of you!
This applies to photos used in your business too. We're more likely to engage with a brand when we can see ourselves reflected in it. A potential customer is more likely to engage with you if they:
can see themselves using your services or product,
identify with your existing clientele,
can imagine talking, and liking, you or any employees you might have.
Additionally, iconography and other graphics that are consistent with your brand identity can complement your logo and help make your copy and marketing materials more compelling and easier to read.
Brand imagery should appeal to your target audience. Using it consistently across media (website, social media, printed materials) will develop brand awareness and, as a result, strengthen your brand identity.
Why do I need visual branding?
If you're in the early stages of your business, you're probably juggling multiple tasks like developing your services and products, building your clientele, and making sales. It might be tempting to put off your visual branding.
However, developing and refining your visual brand assets will help you grow your business, complement your marketing strategy, and develop a loyal client base. It will also help you maintain brand consistency over time and build brand credibility.
Branding helps you tell a story about who you are to potential clients. It helps your clients understand who you are and to connect with you. From there, they can decide whether they are interested in engaging with you. While branding includes your content, copy, products, etc., visual branding holds a lot of weight in comparison.
Did you know: the Secretariat of the Seoul International Color Expo conducted research showing that 93% of purchasing decisions are made based on visual factors.
Before a customer reads your copy or views your products or services, they're seeing your logo, images and visual appearance. It's one of the first things used to establish trust in you.
Branding elements like logos and colour can make your brand easy to recognize and visually communicates your brand purpose and values.
Visual branding should create an emotional impression on viewers. It informs your audience about the nature of your brand and the services and products you offer. It provides consistent visual elements in the many aspects of your business.
If "what you see is what you get", then strong, strategic visual branding will help shape perceptions of your brand and help potential clients see the value that you can provide to them.
Summary
A brand is made up of a complex set of experiences and interactions that your visual elements can very effectively help shape.
Executing effective branding will help establish trust in you and your business and help your brand resonate more effectively with your audience.
What's more, it helps you attract your ideal clients and gives them a better idea of who you are and how you can serve their needs. Additionally, strong branding promotes recognition of your brand and sets you apart from competition.
If you're interested in learning more about how to develop effective visual branding assets for your business, keep an eye out for part 2 of this article!
Resources
A couple of fun reads about logo design!
The Incredible Way Your Brain 'Sees' a Logo @ Entreneur.com
40 Brand Logos with Hidden Messages @ Adweek.com