A guide to getting your unique address on the internet
You figured out what you want to name your new business and you're ready to build your first website! Now what? You'll need to buy a domain name and get hosting. Time to see if the domain name you want is available, and snag it for yourself!
To do that, you'll have to get the name you want at a domain name registrar. The registrar then registers your domain name with ICANN (the Internet Corporation for Assigned Names and Numbers), after which you officially own the domain.
Technically, you're registering your domain name for a set period of time. You can't buy it and then own it for life, but will have to renew your registration periodically.
You can register domain names whenever you like, even if you don't have a website or hosting yet. Good domain names tend to be taken fast, so I'd suggest doing it sooner rather than later!
Read on for the quick guide on how to register your domain name and some tips and advice for a smoother process.
*This post contains affiliate links for tools and resources that I have tried, used, and love. Click here for my full disclosure statement. Thanks for your support!
Buy your domain name: a step-by-step guide
Visit a domain registrar to first check if your domain name is available.
I use Domain.com and find it really easy to manage, and that's what I used in the screenshots below. However, the process will be very similar with other registrars.
Alternatively, if you are planning to use Bluehost for your hosting needs, you can get a free domain from them for a year.
Search your preferred domain name to see if it's available.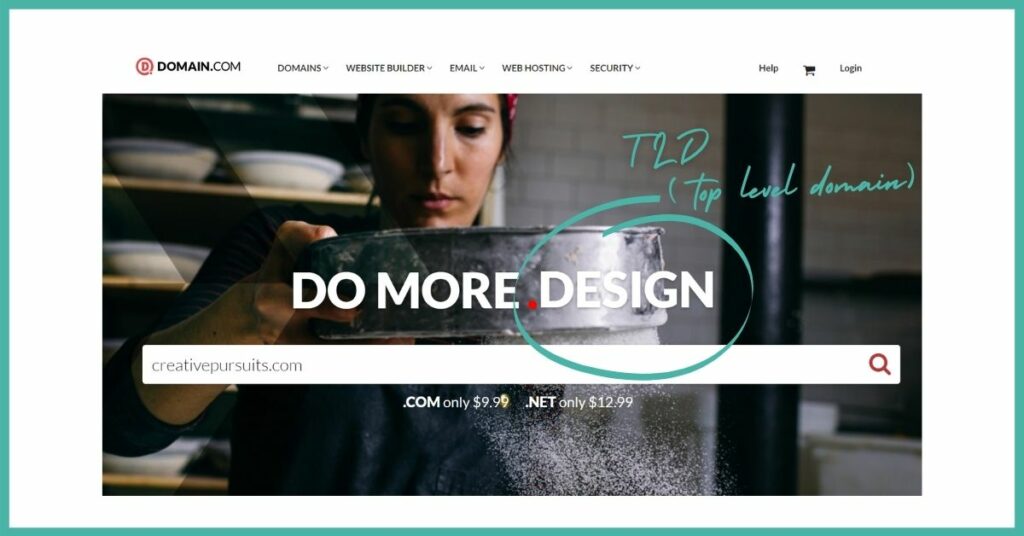 2. If your choice is available, it will be automatically added to your cart. You might be shown recommendations for similar domain names to "secure your brand", so to speak.
Some businesses opt to purchase domain names that reflect common misspellings so that they can redirect that traffic to the correct site. Others buy similar names or multiple TLDs (top level domains, otherwise known as domain extensions) to avoid sharing similar domain names with other businesses.
In most cases, this is probably overkill and you won't have to worry about it.
You have a couple of options if your domain name is unavailable. There are ways to pursue a domain name that someone else has purchased, which I won't get into here as most people aren't interested in the hassle involved.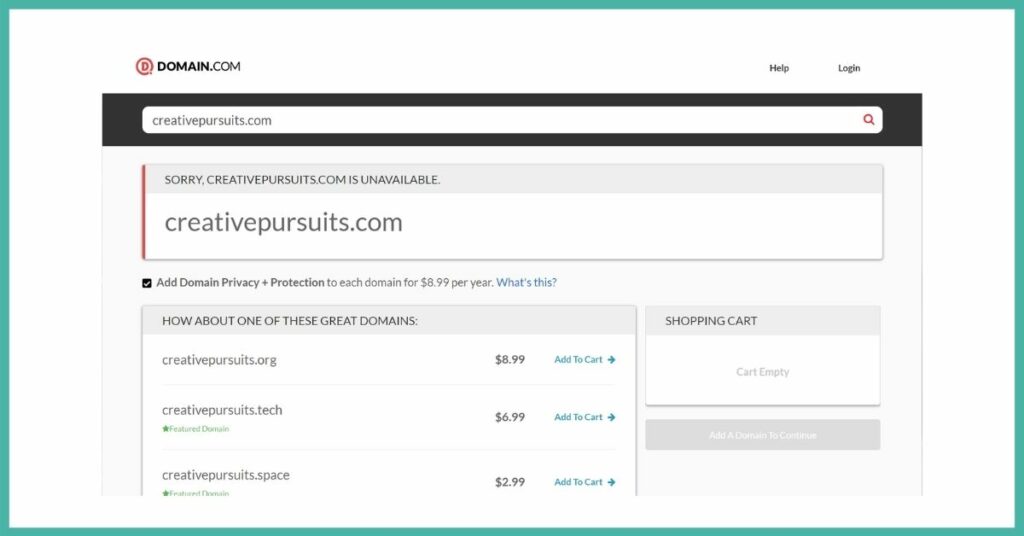 You can try searching a different domain name to find one that is available. Alternatively, you can try a variation with a different TLD.
Domain.com makes it easy for you by offering a list of available suggestions that include TLD variations as well as variations on the full name, with corresponding one-year pricing.
So for example, if creativepursuits.com isn't available, explore your options like creativepursuits.design, .tech, or creativebusiness.com. (I know they're not great examples, I'm just trying to illustrate my point!)
If you're picking a different TLD from the list of suggestions then you can go ahead and add your domain name choice to the cart!
3. You can't purchase a domain for life. Instead, most registrars will offer it for a number of years.
If you're concerned about forgetting to renew your purchase, you can purchase your domain name for a longer period of time OR just enable reminders and auto-billing to ensure your site suddenly doesn't have an address.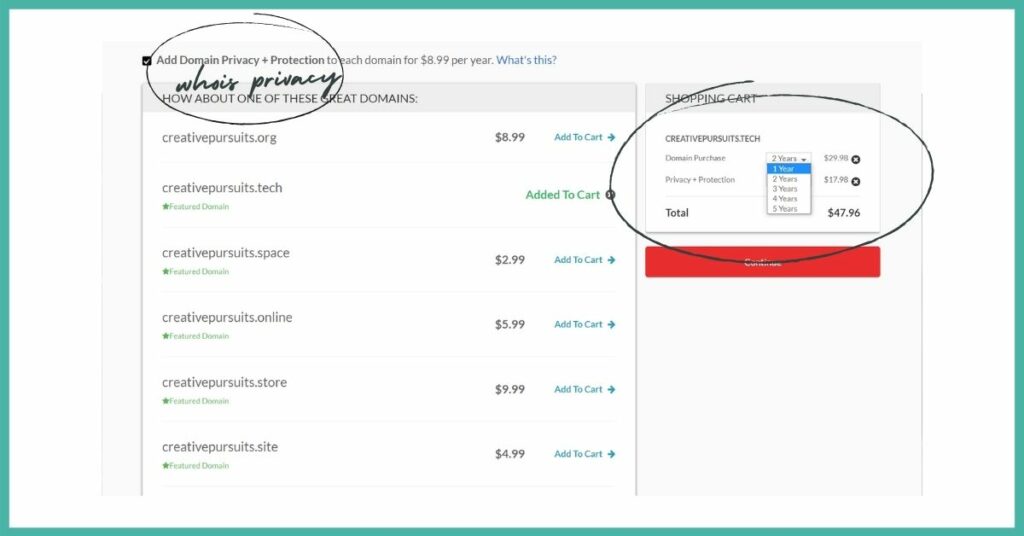 Pick the length of time you want to purchase the domain name for, select any add-ons you want, then make your purchase!
4. Your registrar will send you information confirming your purchase and your login credentials to manage your domain.
Things to consider when buying a domain
Choosing a domain registrar
You don't have to buy your domain name from the same place that you get your hosting.
In fact, I encourage getting your domain name and hosting services from separate companies. This way, if you decide you want to switch hosting services later, you can do it easily without worrying about having to move your domain name as well.
Choosing a domain name and TLD
Your TLD is the last part of your domain name, most popularly the ".com".
.com URLs are popular and easy for others to remember, so it tends to be first choice for most people. Also, smartphone keyboards have a dedicated '.com' key which makes it easier to type in a website address, so it's a smart move to make your visitors' lives a little easier.
However, if it makes sense for your business, then go ahead and choose something like .space, .me, or .design!
You can expect most .com domains to cost around $15 per year, though it could be less or more (sometimes significantly more). Pricing for non-'.com' TLDs can really vary.
Try to keep your website address short and simple. Type it out the way it would look in a browser address bar with no spaces and show it to a couple of friends to make sure it reads the way you want.
To make it more search engine-friendly, use your brand name and/or keywords in the domain name.
Choosing add-ons: privacy protection
ICANN requires that you provide accurate contact information. (You'll want to make sure to update this with your registrar if you change your address.)
If you have concerns about your address being listed with your domain purchase, you'll want to include privacy registration (WHOIS Protection) in your purchase.
It will be offered as an option before you check out. Namecheap even offers it for free. You will have to renew privacy protection when you renew your domain.
Alternatively, use a postal box address if you'd rather not register your domain name using your private address.
Choosing add-ons: SSL certificate
You will want an SSL certificate, but most reputable registrars now offer basic SSL for free. An SSL cert keeps your website safe to browse and helps you rank in search engine results – secure sites are better for business!
Unless you handle sensitive information like credit card numbers on your website, a basic SSL certificate should suffice and will help keep visitors to your site safe. In the event that you do start processing information that needs to be secured, you can easily upgrade to a premium SSL certificate.
When enabled, it will show in your URL as the 's' in "HTTPS" and visitors will know that your website is secure as a padlock icon will show next to the URL in your browser window. In fact, some browsers won't even open unsecure sites, so don't skip this!
Choosing add-ons: email registration
Some domain registrars offer email registration so that your email address looks professional and reflects your business. If you aren't sure whether you need this yet, you can skip it for now and upgrade later.
---
And that's it, simple and easy! Ready to buy hosting and get your website online? Here's my (very) simple guide to choosing a web host based on your current priorities.